Follow Tripple Croxx Ent.
Donate...
TCE Archives
Tripple Croxx
Entertainment
126 North Main Street Suite 300
Dayton, Ohio 45402
Phone: 937-241-4957
Email:
info@tripplecroxxent.org
About Oral Funk Poetry Productions
We are the home of Urban Creative Arts.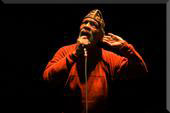 Oral Funk Poetry Productions (OFP) is the production management arm of Tripple Croxx Entertainment. Its vision is to revive, share, support and create opportunities for Dayton artists to express all forms of visual and performance creative art and entertainment. Poetry is the moral fabric of OFP and is used to synthesis an atmosphere that nurtures all forms of entertainment and artist aspirations. It also seeks to raise the morale of the people living in Greater Dayton and southern Ohio region by honoring the urban experience through performance art.
One way we achieve our mission is through The Signature: A Poetic Medley Show, which is a bi-monthly show of performing and visual arts that includes authentic and diverse forms of poetry, drama, dance, rhythm, blues, reggae, jazz, neo-soul, hip-hip and funk. It also features the best national and regional professional talent. The Signature: A Poetic Medley Show is housed at The Loft Theatre in Dayton, Ohio, and is co-presented by The Human Race Theatre Company.
We also offer full-service event production for schools, government agencies, industries and organizations locally and regionally.
For information on an upcoming The Signature: A Poetic Medley Show event, or to learn more about our event production capabilities, contact us at 937-241-4957
Click here to purchase tickets to our upcoming event!